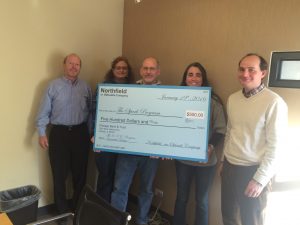 Interactive Design Architects has been engaged with Northfield Block in lunchtime seminars, in which we earn the Continuing Education Credits that licensed architects crave, with our relentless thirst for knowledge and legal obligations for maintaining licensure.  As part of their education program, Northfield has initiated what is known as the O.N.E. Program, in which a donation is made to the host firm's charity of choice after four seminars are completed.  After hosting four presentations on varied topics concerning concrete masonry, Interactive Design Architects chose the Spark Program as the recipient.
The Spark program is a nonprofit organization that provides mentorships for youth in underserved communities, with the goal of helping students become motivated learners and connected community members.  IDEA president Dina Griffin has participated as a mentor for the program, which engages seventh and eighth grade students in workplace-based apprenticeships.
More information on the Spark program can be found at http://www.sparkprogram.org.